Chain Link Fencing for Wilmington, NC & the Surrounding Area
Chain link fencing is a great option for homeowners throughout the greater Wilmington, NC area. Installing a chain link fence can add security to your property, keeping your kids and pets safe without obstructing the view. Chain link is one of the most affordable fencing materials and doesn't need much maintenance to look great! By surrounding your property with a chain link fence, you can increase your home value, as many prospective buyers prefer a fenced-in yard.
The professionals with Davis Fence can design and install your custom chain link fence today! Our chain link fence options are available in 4 foot, 5 foot, or 6 foot heights. We also are able to build custom dog kennels to keep your furry friend safe and contained. If you don't want a standard galvanized chain link, ask about colored vinyl coated solutions! You can also add privacy by including PVT Slats, which come in a variety of colors.
Contact the experts with Davis Fence today to discuss your needs, learn more about our chain link fence options, and to request a quote. Our fence company proudly provides service to property owners throughout the Wilmington, NC area.
Benefits of Security Fences
Whether you own a residential or commercial property, security is a big concern for many property owners. A security fence is a great way to protect your property from intruders, keep your kids and pets safe, and add a visibly appealing element to your property. When you need a fence installation, it is best to leave it to the professionals at Davis Fence. Below are a few benefits of installing a chain link or security fence.
Security: One of the main reasons to install a security fence is protection. A security fence will deter possible intruders from coming onto your property.
Privacy: A security fence is a solid barrier that will prevent people from seeing into your property and protect your loved ones, customers and belongings.
Improves Property Value: A security fence can come in various shapes, colors, and sizes, improving the overall appearance of your property.
Peace of Mind: Have peace of mind knowing your kids, customers, pets, and belongings will all be safe and protected with a security fence.
If you think your property could benefit from a security fence, contact us at Davis Fence. Our fence company would be happy to provide extra security for your property! We offer services to Wilmington, NC, and the surrounding areas.
Privacy Slats
Privacy slats on your chain link fence can block unwanted eyes from seeing onto your property. This can add extra security for your children or pets and if you are a business owner, it can add extra protection for your investments. Available from our fence company in a variety of colors, your privacy chain link fence can flow seamlessly with your property and can even add curb appeal!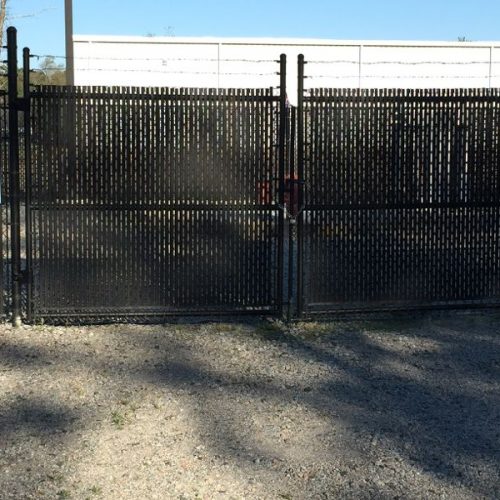 Vinyl Coated
Generally, chain link fencing is associated with a silver, metal color. However, a vinyl coating can add a visual pop to your property! If you are looking to surround your business property with a vinyl coated chain link, we can match it to your company's signature colors. The coating also adds an extra layer of rust protection, potentially extending the life of your fencing.