Chain Link Fencing Services
for Wilmington, NC & Beyond
Chain link fencing is a great option for commercial and residential property owners throughout the greater Wilmington, NC area. Installing a chain link fence can make your property more secure, keeping your kids and pets safe without obstructing the view. Chain link is one of the most affordable fencing materials and doesn't need much maintenance to look great for years to come! By surrounding your property with chain link fencing, you can increase your home value, as many prospective buyers prefer a fenced-in yard.
The professionals with Davis Fence can design and install your custom chain link fence according to your exact specifications. Our chain link fencing options are available in 4-foot, 5-foot, or 6-foot heights for maximum convenience. We also are able to build custom dog kennels to keep your furry friend safe and contained on your property. If you don't want a standard galvanized chain link, there are options; ask about our colored vinyl-coated solutions! You can also add privacy to your chain link by including PVT Slats, which come in a variety of colors.
Contact the team at Davis Fence today to discuss your needs, learn more about our chain link fencing options, and request a quote. Our fence company proudly provides chain link fencing service to both commercial and residential property owners throughout the Wilmington, NC area.
Benefits of Chain Link Fences
Chain link fencing is one of the most popular options when it comes to residential or commercial fencing in Wilmington, NC and across the country. This is due to its many practical benefits. Installing a chain link fence on your property can benefit you in a number of ways. Consider the following points:
Affordable: When compared to other types of fencing, chain link is among the least expensive to install on your property. If you are concerned about sticking to your budget, consider a chain link fence to meet your needs.
Simple: Chain link fencing is incredibly easy to install and maintain. It is designed to withstand the elements without rusting or gathering dirt. While you might have to trim any growing plants, there is very little you will need to do to maintain your chain link fence.
Visibility: A chain link fence is strong enough to secure your property against intruders and keep your children and pets inside, but open enough that you can still enjoy sunlight and see your surroundings.
Durable: Chain link fencing is extremely strong and durable. It is constructed from interlocking coated steel wire, which gives it the strength to withstand tough conditions of all kinds. Because chain link fencing has so many openings, it is much less susceptible to wind damage than other types of fencing.
Secure: Unless your fence is fully decorative, you are likely looking for a measure of security when you look to get one installed. Chain link fencing is made from strong steel wire, which helps to deter potential intruders, pests, and any other unwelcome entities.
If you are considering chain link fencing for your Wilmington, NC property, don't hesitate to reach out to the team at Davis Fence! We will be delighted to answer any questions you have or schedule a consultation.
Privacy Slats
Privacy slats on your chain link fence can block unwanted eyes from seeing your property. This can add extra security for your children or pets. If you are a business owner, it can protect your investments even more efficiently. Available from our fence company in a variety of colors, your modified chain link privacy fence can flow seamlessly with your property; it can even add curb appeal!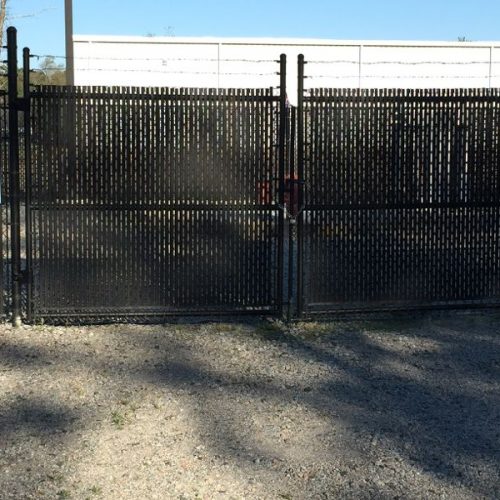 Vinyl Coated
Generally, chain link fencing is associated with a metallic silver color. Consider a vinyl coating to add a visual pop to your property! If you are looking to surround your business property with a vinyl-coated chain link, we can match it to your company's signature colors. The coating also adds an extra layer of rust protection, potentially extending the life of your fencing.