Vinyl Fencing Services
for Wilmington, NC & Beyond
Our fence company can install a high-quality vinyl fence for your property in the Wilmington, NC area and beyond. Vinyl fencing is made of a highly resilient plastic-based substance, making it perfect for a variety of outdoor applications. About five times stronger than wood, vinyl is not susceptible to decomposition or damage from pests, so you can expect it to last! Offering the perfect combination of strength and flexibility, vinyl fencing will stay standing, no matter how harsh the weather.
Not only does vinyl fencing look great, but it also involves very minimal maintenance! Vinyl fencing can easily be cleaned with a hose and does not require any routine maintenance to stay looking great. The material retains its color wonderfully and can very easily be sprayed down to look brand new!
Vinyl fencing can be made to look like wood if desired. It offers a customizable appearance with a huge range of colors, finishes, and textures. Whatever look you go with will stay consistent over time as well without the color fading and no paint to chip or peel.
Available in a variety of styles, vinyl fencing is an affordable and attractive option that can give you the privacy you are looking for. The experts at Davis Fence are ready to help you design your custom vinyl fence! Give us a call to get started with vinyl fence work on your commercial or residential property in Wilmington, NC.
Vinyl Picket
A vinyl picket fence is a great way to add privacy and increase the curb appeal on your property. Vinyl picket fencing has the ability to add warmth and beauty to any landscape, while offering all the benefits of traditional fencing barriers. Whether you prefer the look of a classic picket fence or would just like to add the picket style to the top of your privacy fencing, Davis Fence has you covered!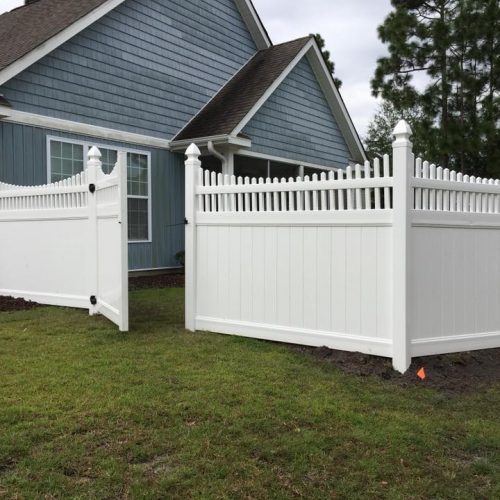 Privacy
Though privacy vinyl fencing is constructed with solid panels, the material itself offers the flexibility needed to stand up to the changing elements in the Wilmington, NC area. Privacy vinyl fencing can offer the isolation you're looking for, with a sleek and classic style. Our fence company's experts can install privacy fencing on any surface, ensuring your property is completely surrounded, safe, and looking great!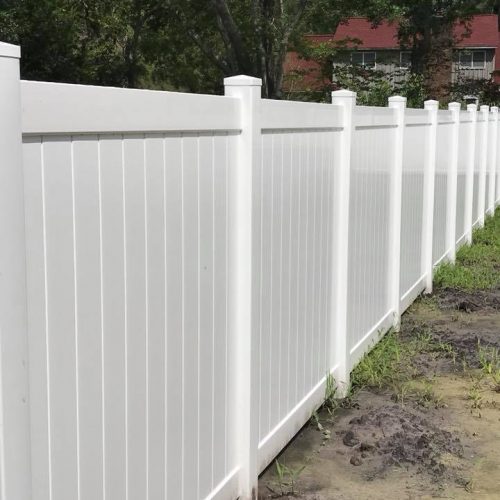 Semi-Privacy
Semi-privacy vinyl fencing is a great option for those that want some seclusion but do not want to feel confined by a solid wall. Because the slats of the fence do not create a solid wall, air and light can still pass through the fence. Though this does not offer complete privacy, it does still offer security and aesthetic appeal! By limiting some visibility but not all, semi-privacy fencing provides a comforting outdoor atmopshere in your yard.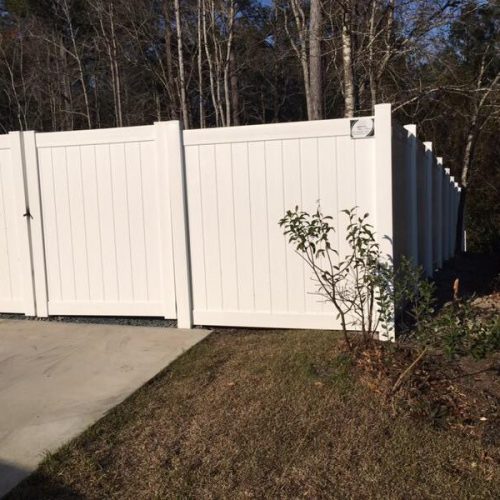 Rail Fence
Whether you love the look of rail fencing surrounding your home or need to enclose your agricultural property to keep your animals safe, post and rail vinyl fencing has the potential to look great! Vinyl post and rail fencing is made with strength and durability in mind, meaning you do not have to worry about routine maintenance. Rail fencing is an ideal option for animals as it does not splinter or chip, making it safe for all!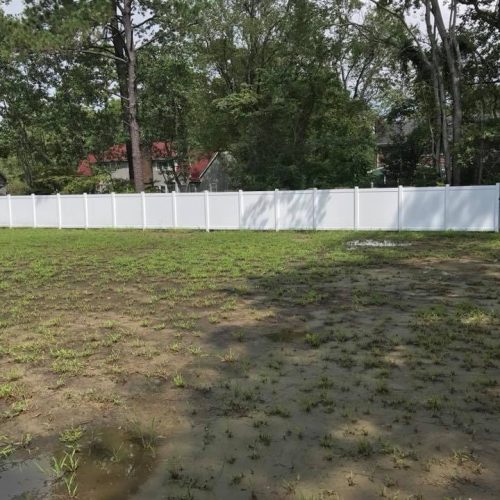 Contact Our Fence Company to Start Your Vinyl Fencing Project Today!
Choose the professionals at Davis Fence to design and install the vinyl fencing on your property in Wilmington, NC! With years of knowledge and experience, we can design a fence that encompasses the desired area of your property in an attractive manner. Our installation experts have completed hundreds of vinyl fencing projects in the Wilmington, NC area and would love to add you to our list of happy clients! For more information or to request a quote, please contact our fence company today at 910-821-1104. We look forward to working with you.