The Source for Privacy Fences in Wilmington, NC & the Surrounding Areas
Privacy fences are becoming more and more requested over the years as they offer the privacy people are looking for. After these fences are installed, you will achieve a new and improved level of comfort and relaxation in your backyard. At Davis Fence, we offer a variety of fences for both residential and commercial establishments in the Wilmington, NC area. Our fence company's wood, vinyl, and chain link fences help customers create a cozy backyard oasis and provide a smart way to add security to any property.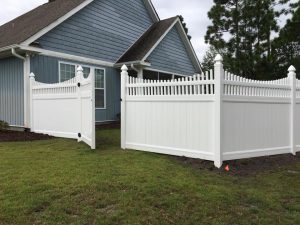 Explore the Benefits of Privacy Fences:
Security – A privacy fence will add security to your property by preventing strangers from walking onto your property.
Reduces noise – While it's hard to block out all outside noise, a fence will definitely help reduce it. This might help block out road noise, providing you with better sleep and less stress.
Defines property lines – Fences mark off clear property lines leaving no question for neighbors as to who is responsible for cutting the grass in a certain area or trimming trees and shrubs. A simple chain link fence can do wonders for this purpose.
Increases property value – A properly installed fence can add value to your property, especially one that offers a beautiful design and is maintenance-free. Having a nice fence on your property may even drive up the asking price for your home if you sell.
Boundary – Fences keep animals and children from wandering out into places where they should not be.
Protection from weather – When windstorms whip through the Wilmington, NC area, a fence can help protect your garden, keep backyard items contained in your yard, and provide a protective barrier from the wind. Our fence company understands how to build with the climate in mind.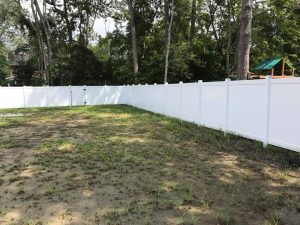 There are a handful of materials and designs you can use for your privacy fence. From different types of woods to vinyl and different metals, Davis Fence will help you find the best fit for your style, budget, and needs.
Our Fence Company Also Offers Security Fences
Security fences help protect your property by deterring unwanted guests. These fences are built a little sturdier than other privacy fences and are made using durable materials such as iron or steel.
Adding sharp objects or pointed tips to the top of the fence adds more protection to your property. There's simply no substitute for our durable security fences!
Contact our Privacy Fence Experts Today
If you're interested in learning more about our innovative privacy fences, don't waste another moment. Contact one of the friendly representatives at Davis Fence to enhance your surroundings. For years, our certified technicians have continued to assist clients throughout Wilmington, NC, and all the surrounding communities, providing both residential and commercial wood, vinyl, and chain link fencing services. No matter the scope of your upcoming application, our fence company is standing by to lend a helping hand.