Steel & Aluminum Fencing for Wilmington, NC & the Surrounding Area
Ornamental aluminum fencing gives the home owner excellent durability and security with a classic, sophisticated look. Give us a call today if you are looking to install a security or privacy fence in Wilmington, NC. Dress up your yard with a decorative wrought iron looking fence installed by the professionals at Davis Fence. 
Ornamental steel or aluminum fencing is a great choice for property owners throughout the Wilmington, NC area. Both aluminum and steel are cost-effective and low-maintenance materials, able to withstand the weather and test of time. Unlike iron, aluminum does not rust so it will look great for years to come! A strong and durable material, steel or aluminum fencing can add security to your property with a sophisticated and classic look.
Love the look of wrought iron but are not a fan of the price? Steel and aluminum fencing is for you! The professionals at Davis Fence will work with you every step of the way to ensure your fence looks and functions like you intended. Our goal is to provide you with fence installation and customer service that meets and exceeds your expectations! For more information, please don't hesitate to contact us today! Our services are available to clients throughout Wilmington, NC and the surrounding communities.
Alumi-Guard Fence
Alumi-Guard manufactures and designs quality ornamental aluminum fencing. This brand of fencing offers elegant and durable options that can be customized to suit any style to compliment the exterior of your home or property. The powder-coated fencing is nearly maintenance-free, making it a great choice for any application!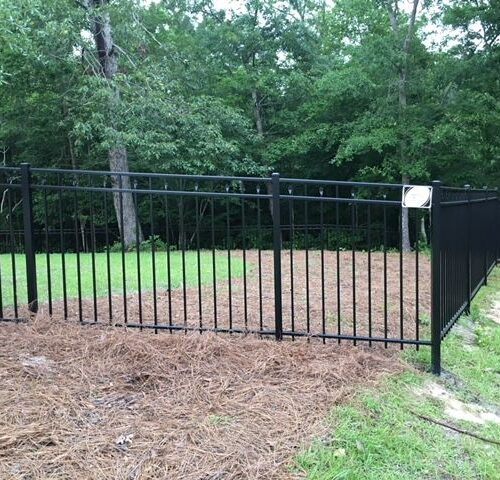 Ameristar Ornamental Steel
Here at Davis Fence, we use only the highest-quality materials to ensure your fence is exactly what you want it to be. Ameristar ornamental steel fencing is a long-lasting, strong option to create high security around your property. Whether you prefer a more traditional fence or are looking for something with a bit more design, ornamental steel fencing can create that look!