Steel & Aluminum Fencing Services
for Wilmington, NC & Beyond
Ornamental aluminum fencing gives the homeowner excellent durability and security with a classic, sophisticated look. Give our fence company a call today if you are looking to install steal or aluminum fencing in Wilmington, NC. Dress up your yard with a decorative wrought iron-looking fence installed by the professionals at Davis Fence. 
Benefits of Steel & Aluminum Fencing
Ornamental steel or aluminum fencing is a great choice for property owners throughout the Wilmington, NC area. Both aluminum and steel offer a variety of benefits, including:
Cost-Effective – Compared to other materials, steel, and aluminum fencing is extremely affordable. Although the initial cost may be a bit shocking, there is virtually no maintenance that needs to be done, meaning that is a one-time fee for a great-looking fence!
Low Maintenance – Unlike wrought iron and wood, steel and aluminum fencing does not need to be repainted or restained. Covered in a durable powder coating when created, you can expect your fence to look great for decades without showing wear! All that is needed to maintain your steel or aluminum fence is a quick hose-down from time to time.
Durable – Steel and aluminum are both very strong and durable materials. Aluminum in particular is not vulnerable to corrosion, meaning it will not rust. In addition, it will not rot or fade in the sun. Regardless of the weather outside, your steel or aluminum fencing will remain standing strong.
Versatile – Steel and aluminum fencing can be adjusted to fit your landscape exactly, meaning any flat or sloped land can be covered! It can be built to any height specification, as long as it follows Wilmington's local codes. There are various styles, colors, heights, and hardware options available so you can truly customize your steel or aluminum fencing.
Love the look of wrought iron but are you not a fan of the price? Steel and aluminum fencing is for you! The professionals at Davis Fence will work with you every step of the way to ensure your fence looks and functions as you intended. Our goal is to provide you with aluminum fencing installation and customer service that meets and exceeds your expectations! For more information, please don't hesitate to contact us today! Our fence company's aluminum fencing services are available to clients throughout Wilmington, NC, and the surrounding communities.
Why Have A Professional Install Your Aluminum Fence
When you need a fence installed or repaired on your property in the Wilmington, NC area, you may consider doing it yourself. However, this project can quickly become daunting and overwhelming, especially if you do not have the right tools and experience. Instead of falling deep into a DIY project nightmare, hire a professional. The team at Davis Fence can get the job done! Some of the benefits of hiring a professional fencing company include:
Installation- Our team has the knowledge and experience needed to install your aluminum fencing and make it "built to last". We don't overlook the small things when it comes to fencing giving you the peace of mind you are looking for.
Labor- A fencing project can be labor-intensive. Our team can handle fencing projects efficiently!
Terrain- No matter if you have a slope in your yard or some kind of uneven ground, our team can help install your aluminum fence so it looks great!
Options- Our team can help you pick out the best aluminum fence for your property as different aluminum fencing holds different strengths. There are different designs on the market to help customize your fencing.
If you are in need of an aluminum fence in the Wilmington, NC area, rely on the team at Davis Fence. Contact our fence company today for more information or to set up services!
Alumi-Guard Fence
Alumi-Guard manufactures and designs quality ornamental aluminum fencing. This brand of fencing offers elegant and durable options that can be customized to suit any style to compliment the exterior of your home or property. The powder-coated fencing is nearly maintenance-free, making it a great choice for any application!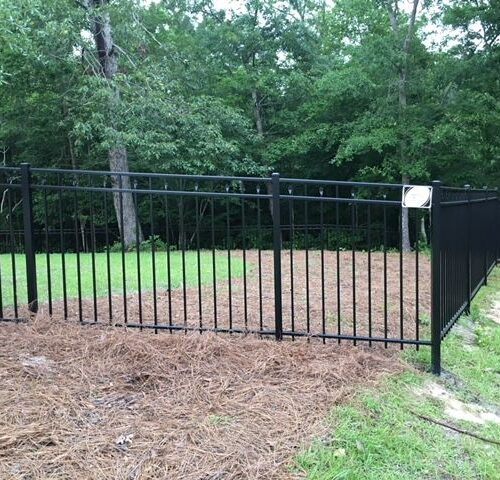 Ameristar Ornamental Steel
Here at Davis Fence, we use only the highest-quality materials to ensure your fence is exactly what you want it to be. Ameristar ornamental steel fencing is a long-lasting, strong option to create high security around your property. Whether you prefer a more traditional fence or are looking for something with a bit more design, our fence company's ornamental steel can create that look!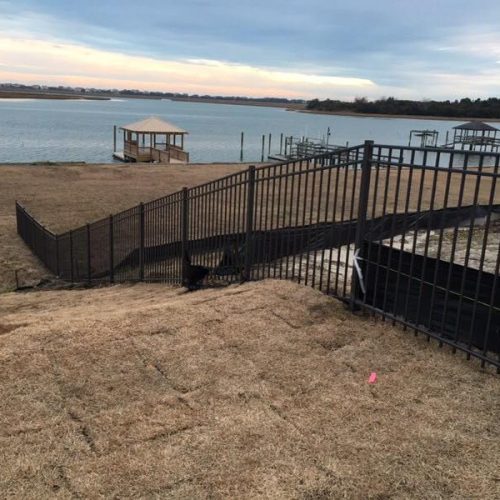 Contact Our Fence Company to Start Your Steel or Aluminum Fencing Project!
Regardless of your property size or whether you'd prefer steel or aluminum fencing, count on Davis Fence to get the job done! Our team will work hard to get your fence installed quickly with minimal disruption to your property. Give us a call today to discuss your ideas and to schedule a quote. We proudly provide commercial and residential aluminum fencing services to property owners throughout the Wilmington, NC area. We look forward to working with you!