Wood Fencing for Wilmington, NC & the Surrounding Areas
Wood fencing is both beautiful and functional, making it a great choice for any property! Generally ranging from three to six feet, wood fencing can be constructed higher, depending on your needs. An economical way to get the privacy you desire, wooden fencing also offers added security for your family, pets, and assets.
Wood fence is also easy to maintain! To keep your fence looking great, cleaning it every year is advised. Removing dirt, moss, and mildew can extend the life of the wood planks. Often times, a pressure washing is the best way to clean your fence, especially if you are preparing it for a new coat of paint or sealant. With proper care and maintenance, your wooden fence can last for many years!
Available in a variety of styles and able to be stained or painted nearly any shade, wood fencing is a consistently popular choice for property owners throughout the Wilmington, NC area. The professionals with Davis Fence are ready to help you design and install your custom wood fencing today!
WOOD FENCE TYPES:
Stockade
Stockade fencing is constructed with wood boards placed tightly against each other, creating a solid panel. This simple and traditional style has highly sturdy posts and is able to withstand the elements for years. If your property has a lot of slopes or changing terrains, stockade fencing is a good choice as it allows you to adjust the angle of each panel to correlate with the uneven surfaces.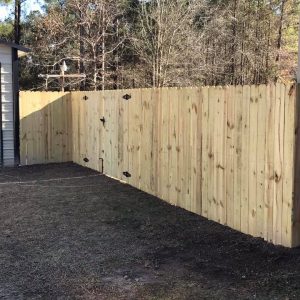 Shadow Box
Aesthetically pleasing from both sides, shadow box fencing is constructed to allow air to flow through the boards. Due to the spacing and design of this style fencing, the life span is generally extended. A very "neighbor-friendly" option, shadow box fencing offers both privacy and looks that appeal to homeowners throughout Wilmington, NC and the surrounding communities!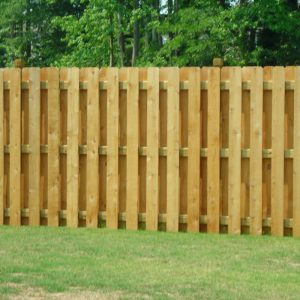 Board on Board
Board on board is a style of fence that consists of central posts with panels on either side. Within the panels, vertical boards are layered on top of each other, offering a design flare for both sides of the fence. There is a gap built between each board to promote airflow, which helps the boards dry faster after a rainstorm. Board on board is commonly used to improve privacy and security.
Picket
A style used since America's earliest colonial era, picket fencing is still a popular fencing choice today. Distinguished by the evenly spaced boards attached to horizontal rails, picket fencing offers a boundary that doesn't block the view. Used around both front and back yards, picket fencing offers a functional, yet ornamental style that can compliment any home! Often painted white, picket fencing can be painted or stained any shade!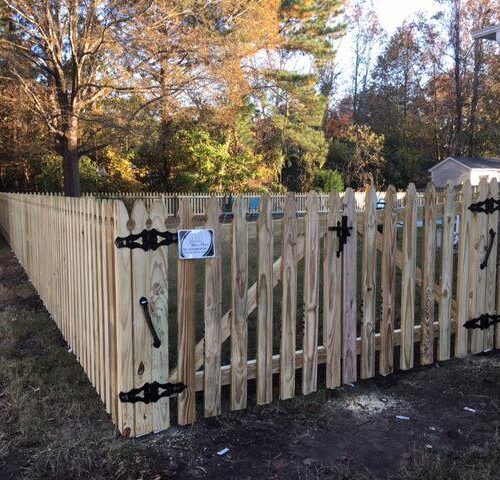 Custom
Do you have a inspiration photo of a fencing style you absolutely love? Are you interested in adding more ornate details to the top of your fencing? Have a weird perimeter shape you want to surround? No matter what your ideas or situation, the professionals at Davis Fencing can help them come to life! We will work with you to create the style fence you're looking for, perfectly situated on your property.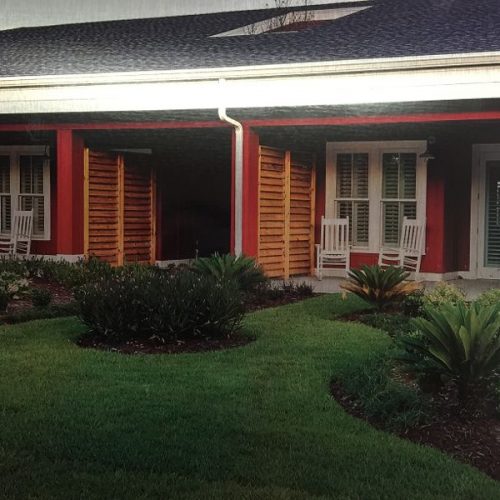 Contact Us Today to Start Your Wood Fencing Project!
Whether you're interested in privacy, safety, aesthetics, or a combination of the three, the experts at Davis Fence are here to help! We have helped hundreds of clients throughout Wilmington, NC and the surrounding areas design and install wood fencing on their properties. For more information or to request a quote, please contact us at 910-821-1104. We look forward to working with you.